Duration: 15 Productive Minutes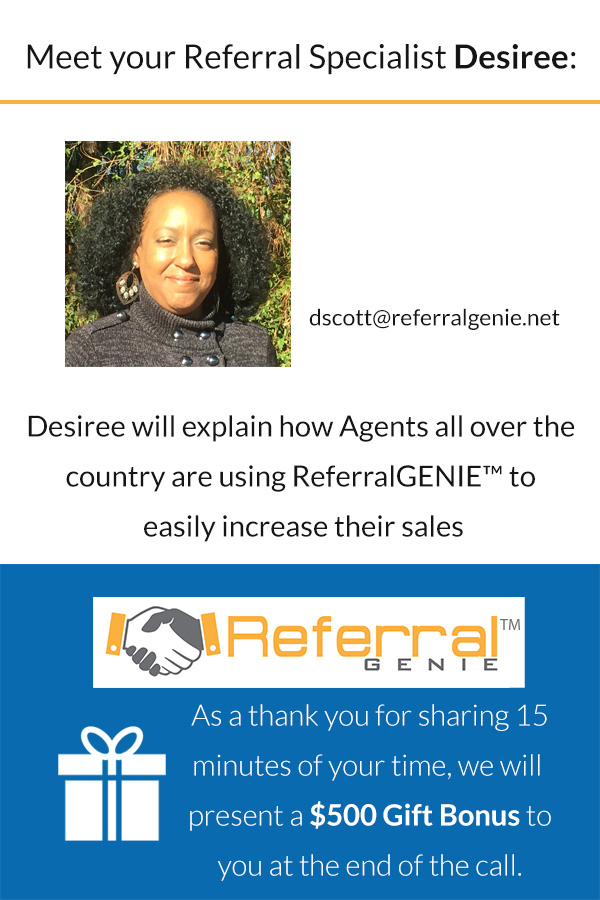 The National Association of Realtors States that 88% of your clients want to refer you but only 12% actually do.
Wow! If your business runs on lead generation, you've got to leverage past client relationships so you fulfill your earning potential!
Join Desiree for our 15 minute educational demo presentation and learn how compounding referrals works and why top agents across the country maximize referrals as their main lead source. Desiree Scott, Our Referral Consultant, will delve into the three points below:
The Secret Power of Compounding Referrals
Learn about how top agents grab Referrals early before other agents even get a chance
How to use ReferralGENIE™ to maximize client referrals by staying top-of-mind

Play Video
As a Thank You for sharing 15 minutes of your time, we will promote your online verified review page powered by Home Owners Network to you at the end of the call.
What Realtors® say about ReferralGENIE™
Sissy Williams

I have been extremely pleased with this service.  It is simple to use and a great ongoing service for my clients that provides a long lasting impression.  As opposed to gifting my clients something that will be gone in a day or two, this is a useful tool they can potentially use on a daily basis.  They also provide me with additional monthly marketing through their customizable newsletter.

David Rehberg

I think RG makes the best referral program in the industry.  It keeps your name in front of the client through the agent branded newsletter and provides great tips as well as providing clients a way to refer you to their family and friends.  This product is great and I recommend it to everyone.

David Karp

I can see the value it brings to them in the form of discounted products and expert technical help right from their smart phone….With my branding supplied to all newsletters, it allows me to be kept "in mind" for anyone that may need my services in the future. In addition, the ease of adding a client to the network is a snap. A definite winning combination!