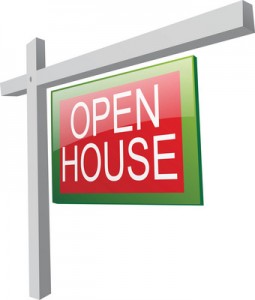 We ask our agents for tips that work well for them.  One of the best things clearly about open houses other than hopefully finding a buyer for your client is finding NEW clients that are actively looking to buy a home and potential business partners.  You can give out business cards, but if you're like me – they stack up on your desk faster than the trash can gets full.
Now, we're a little partial perhaps it's true – but with the ReferralGENIE™ you can give unlimited memberships to your past clients, however – the goal is to build a truly social based referral community. You can give these memberships to your 'prospects' as well.  What happens?  Marketing Magic – rather than receiving a business card that gets lost in a pocket book, or washed in your back pocket – you can give them a powerful membership of ReferralGENIE™
Change your 'For Sale' sign a week before to an 'Open House' sign about a week or two before your actual open house. This will generate some curiosity and you can benefit from traffic a week before.
If the décor in the house is very personal or aged to say it nicely, you may want to consider staging the home or toning down anything that is dramatically overbearing. Your client should understand if they want the price hey are asking, they may need to be a little humble with their personal tastes for   the sake of fetching their asking price.
Again, remember that an open house can sell a home and also get you new clients. Feel free to visit the neighbors and let them know that you are selling the home as it is likely they have a friend or family member that would love to move
Do not – We repeat – Do not allow your client to be present during the open house. It's your job to sell – that's why they hired you!
Have delicious food. The more people that hang around the house when real buyers are present the more in demand they feel the house will be.                                                                                                                                                                  
10/29/2015 12:30:47 PM